DOPAS 2016 SEMINAR MAIN PAGE
DOPAS 2016 Newsletter published
Resume and views about DOPAS 2016 seminar are compiled into the DOPAS Newsletter.

DOPAS_Newsletter_6_DOPAS 2016_web (pdf) (3.6 MB)
The DOPAS 2016 seminar proceedings will be published in the end of the August 2016.
DOPAS 2016 SEMINAR HIGHLIGHTED THE ROLE OF FULL-SCALE DEMONSTRATIONS
The shore of Aura river was inspiring environment for deep going discussions on plugs and seals for two intensive days.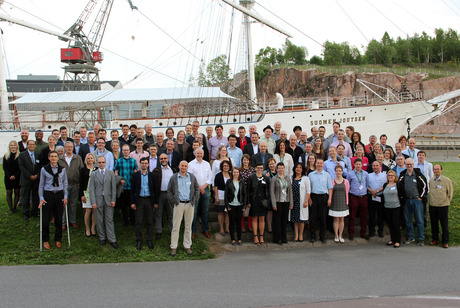 7 DAYS UNTIL DOPAS 2016 SEMINAR STARTS

One week from now the second DOPAS 2016 seminar day is already over and participants are returning home or still staying one more night in Turku before site visit.
The evening is sunny and weather is warm as it have been for all DOPAS 2016 seminar days.
See more about weather in Turku.
http://www.foreca.com/Finland/Turku?tenday
Just a reminder for DOPAS 2016 participants staying at Radisson Blu Hotel in Turku
In case you would like to relax after meeting day, there is a good opportunity to take a walk before or after DOPAS 2016 seminar hours in the shore of the Aura River and thereafter enjoy Finnish Sauna, which is daily open for hotel guests.

GYM HOURS
24 hours (Daily)
SAUNA HOURS
07:00 – 10:00
16:00 – 21:00 (Daily)
DOPAS 2016 Seminar gathers experts widely

Over 100 participants from 50 different organisations around the world have been registered to the DOPAS 2016 seminar. Slightly updated DOPAS 2016 seminar programme and list of posters can be found on the left column.
DOPAS 2016 seminar registration ends in the end of April, but few seats are still available
In case you would like to participate to the DOPAS 2016 seminar please contact address below directly, few seats are still available.

In case of any inquiries please contact DOPAS2016@posiva.fi
Already registered participants have received a confirmation letter in the end of April. Confirmation letter contain more information about Olkiluoto Site visit and other practicalities.
If you don't receive the confirmation letter please contact DOPAS2016@posiva.fi
Practical information how to reach the Radisson Blu Marina Palace hotel is available on DOPAS 2016 Hotel and Travel info (or click the link below)

DOPAS 2016 Hotel and travel info

ACCOMMODATION FOR DOPAS 2016 SEMINAR 24.-27.5.2016
The special rate is available until Friday 15th April 2016.

Bookings are made directly from Radisson Blu website

www.radissonblu.com/en/hotel-turku

è Choose "book now" and fill in the required fields
è On "Select rate type"-field choose Promotional Code and fill in the booking code DOPAS
See more information under DOPAS 2016 Hotel and travel info

The DOPAS 2016 programme is available
The DOPAS 2016 seminar programme is now available under DOPAS 2016 programme

More than 30 oral presentations related to the different aspect for plugs and seals for repositories and underground applications will be given in the DOPAS 2016 seminar.

DAY ONE, 25 May 2016, Turku
Session 1
0900-1030: Opening ceremony for DOPAS 2016 seminar and key-note presentations highlighting the European co-operation in demonstrating repository feasibility
Session 2

1110-1230: What DOPAS project can provide for nuclear waste management - key conclusions from DOPAS
Session 3.
1520-1730: Plugging and sealing experiences from various other applications
DAY TWO 26 May 2016, Turku
Session 4.
0810-0930 Civil engineering design for plugs and seals: location siting, modeling expected performance, material development, civil work installations
Session 5.
1300-1450: Performance of plugs and seals: monitoring of demonstrator tests, monitoring requirements in the repository, performance and safety assessment, compliance assessment, feedback to design basis
Session 6.
1520-1700: The way forward with plugs and seals and concluding remarks
DOPAS 2016 seminar Abstracts submission dead line extended
If you work with related items or boundary topics, which might benefit the planning, design, operation or decomissioning and closure for future repositories or disposal facilities, this might be an opportunity to present your work or just hear and learn from the experiences from other.
The abstracts can be submitted under following headings and even more broadly.
Outcomes from the DOPAS Project
Plugs and Seals for Other Purposes
Siting of Plugs and Seals
Plug and Seal design, Materials and Implementation
Role of Plugs in Safety and Performance Assessment
The Way Forward for Plug and Seals.
The abstracts submission has been extended until 18th Deember 2015.
The registration to the DOPAS 2016 seminar is open and by registrating now you will ensure your participation to the DOPAS 2016 Seminar.
The preliminary programme will be available in the end of January 2016.
There are still 6 months front of us to the last seminar day and Site visit to Olkiluoto, which takes place 27th May 2016.
Call for Abstract has been published in the middle of June 2015. It can be downloaded under Call for Abstract section.