ewogICJzcmNzZXR0aSIgOiAiL21hdGVyaWFsL2NvbGxlY3Rpb25zLzIwMjAwOTE4MTYzMzE0LzdLU1pYSlkxSi9jcm9wcGVkLWltYWdlcy8xNjA3OTUzMzI2OTA1X2Nyb3BwZWRfMDZfZm9vdGVyX29zaW9uX3RhdXN0YV8zMDAucG5nIDMwMHcsL21hdGVyaWFsL2NvbGxlY3Rpb25zLzIwMjAwOTE4MTYzMzE0LzdLU1pYSlkxSi9jcm9wcGVkLWltYWdlcy8xNjA3OTUzMzI2OTA1X2Nyb3BwZWRfMDZfZm9vdGVyX29zaW9uX3RhdXN0YV81MC5wbmcgNDB3LC9tYXRlcmlhbC9jb2xsZWN0aW9ucy8yMDIwMDkxODE2MzMxNC83S1NaWEpZMUovY3JvcHBlZC1pbWFnZXMvMTYwNzk1MzMyNjkwNV9jcm9wcGVkXzA2X2Zvb3Rlcl9vc2lvbl90YXVzdGFfMTUwLnBuZyAxMjB3LC9tYXRlcmlhbC9jb2xsZWN0aW9ucy8yMDIwMDkxODE2MzMxNC83S1NaWEpZMUovY3JvcHBlZC1pbWFnZXMvMTYwNzk1MzMyNjkwNV9jcm9wcGVkXzA2X2Zvb3Rlcl9vc2lvbl90YXVzdGFfNDAwLnBuZyAzMjB3LC9tYXRlcmlhbC9jb2xsZWN0aW9ucy8yMDIwMDkxODE2MzMxNC83S1NaWEpZMUovY3JvcHBlZC1pbWFnZXMvMTYwNzk1MzMyNjkwNV9jcm9wcGVkXzA2X2Zvb3Rlcl9vc2lvbl90YXVzdGFfODAwLnBuZyA2NDB3LC9tYXRlcmlhbC9jb2xsZWN0aW9ucy8yMDIwMDkxODE2MzMxNC83S1NaWEpZMUovY3JvcHBlZC1pbWFnZXMvMTYwNzk1MzMyNjkwNV9jcm9wcGVkXzA2X2Zvb3Rlcl9vc2lvbl90YXVzdGFfMTI4MC5wbmcgMTAyNHciLAogICJlbGVtZW50X21vZGUiIDogIiIsCiAgImVsZW1lbnQuY29tcG9uZW50IiA6ICJ0cnVlIiwKICAiZWxlbWVudF9wYXRoIiA6ICJqYWV0dHUvanVsa2luZW4vYmFubmVyIiwKICAiZWxlbWVudC5vbmxvYWQiIDogImNsaWVudCIsCiAgImVsZW1lbnQuOCIgOiAidHJ1ZSIsCiAgImVsZW1lbnQuNiIgOiAiZmFsc2UiLAogICJlbGVtZW50LjUiIDogImZhbHNlIiwKICAic2VjdGlvbiIgOiAiZGVmYXVsdCIsCiAgImVsZW1lbnQucHVibGljbGluayIgOiAiL2VsZW1lbnQuaHRtbC5zdHgiLAogICJpbXBvcnRwYXRoIiA6ICIvd2ViY29tcG9uZW50cy9qYWV0dHUvanVsa2luZW4vYmFubmVyIiwKICAiVUlEIiA6ICJpZER0Z1E3ekQxMiIsCiAgImNzcyIgOiAiY3NzL2Jhbm5lci5jc3MiLAogICJkYXRhX2xpc3RlbmVycyIgOiAiamFldHR1L2p1bGtpbmVuL2Jhbm5lciIsCiAgImNsYXNzIiA6ICJzdGF0b2VsZW1lbnQgamFldHR1LXNpc2FsdG9zaXZ1LWJhbm5lciBkLWZsZXggZnVsbC13aWR0aCBjb250ZW50LW1vZHVsZS0tYmxvY2sgc2hvdy1vdXRsaW5lIGlzLWNvbm5lY3RlZCIsCiAgImNhcmRjaGFubmVsIiA6ICJwdWJsaWMiLAogICJDVVJSRU5UUEFUSCIgOiAiL2phZXR0dS9qdWxraW5lbi9iYW5uZXIvamFldHR1L2p1bGtpbmVuL2Jhbm5lci8iLAogICJwYWFrdXZhaW1hZ2V1cmwiIDogIi9tYXRlcmlhbC9jb2xsZWN0aW9ucy8yMDIwMDkxODE2MzMxNC83S1NaWEpZMUovY3JvcHBlZC1pbWFnZXMvMTYwNzk1MzMyNjkwNV9jcm9wcGVkXzA2X2Zvb3Rlcl9vc2lvbl90YXVzdGEucG5nIiwKICAiZWxlbWVudC5saW5rIiA6ICIvZWxlbWVudC5odG1sLnN0eCIsCiAgInVybGV4ZWN1dGVwYXRoIiA6ICIvY2hhbm5lbHMvcHVibGljL3d3dy9wb3NpdmEvZW4vaW5kZXgvcG9zaXZhIiwKICAic2tpbiIgOiAiYmFubmVyLmh0bWwiLAogICJlbGVtZW50LmxvYWQiIDogImNsaWVudCIsCiAgImNoYW5uZWwubGFuZ3VhZ2UiIDogImVuIiwKICAiZWxlbWVudC5tb2RlIiA6ICJlbGVtZW50IiwKICAiSU5TVEFOQ0VJRCIgOiAiRHRnT0pxMkYyIiwKICAiZWxlbWVudC5sYW5ndWFnZSIgOiAiZmkiLAogICJlbGVtZW50LnBhdGgiIDogImphZXR0dS9qdWxraW5lbi9iYW5uZXIiLAogICJlZGl0dXJsIiA6ICIvYmluL2dldC92ZWQvY0FxUWNPUUVPLmNBckhuVDJ4dy4wdEc1bGdjTkkiLAogICJwdWJsaWN1cmwiIDogIi9lbGVtZW50Lmh0bWwuc3R4IiwKICAiIiA6ICIiLAogICJHVUlEIiA6ICIiLAogICJ2aWV3dXJsIiA6ICIvYmluL2dldC92aWQvY0FxUWNPUUVPLmNBckhuVDJ4dy4wdEc1bGdjTkkiCn0=
ewogICJlbGVtZW50X21vZGUiIDogIiIsCiAgImVsZW1lbnQuY29tcG9uZW50IiA6ICJ0cnVlIiwKICAiZWxlbWVudF9wYXRoIiA6ICJwb3NpdmEtcHViL29zaW9ubmltaSIsCiAgImVsZW1lbnQub25sb2FkIiA6ICJjbGllbnQiLAogICJlbGVtZW50LjgiIDogInRydWUiLAogICJlbGVtZW50LjYiIDogImZhbHNlIiwKICAiZWxlbWVudC41IiA6ICJmYWxzZSIsCiAgInNlY3Rpb24iIDogImRlZmF1bHQiLAogICJlbGVtZW50LnB1YmxpY2xpbmsiIDogIi9lbGVtZW50Lmh0bWwuc3R4IiwKICAiaW1wb3J0cGF0aCIgOiAiL3dlYmNvbXBvbmVudHMvcG9zaXZhLXB1Yi9vc2lvbm5pbWkiLAogICJVSUQiIDogImlkRHRnZk5sUkZzIiwKICAiY3NzIiA6ICJjc3Mvb3Npb25uaW1pLmNzcyIsCiAgImRhdGFfbGlzdGVuZXJzIiA6ICJwb3NpdmEtcHViL29zaW9ubmltaSIsCiAgImNhcmRjaGFubmVsIiA6ICJwdWJsaWMiLAogICJDVVJSRU5UUEFUSCIgOiAiL3Bvc2l2YS1wdWIvb3Npb25uaW1pL3Bvc2l2YS1wdWIvb3Npb25uaW1pLyIsCiAgInVybGV4ZWN1dGVwYXRoIiA6ICIvY2hhbm5lbHMvcHVibGljL3d3dy9wb3NpdmEvZW4vaW5kZXgvcG9zaXZhIiwKICAiZWxlbWVudC5saW5rIiA6ICIvZWxlbWVudC5odG1sLnN0eCIsCiAgInNraW4iIDogIi90b29scy9lbGVtZW50cy9lbGVtZW50L3NraW5zL2h0bWwvZWxlbWVudC5odG1sIiwKICAiZWxlbWVudC5sb2FkIiA6ICJjbGllbnQiLAogICJJTlNUQU5DRUlEIiA6ICJEdGdkVFB0cHMiLAogICJlbGVtZW50Lm1vZGUiIDogImVsZW1lbnQiLAogICJjaGFubmVsLmxhbmd1YWdlIiA6ICJlbiIsCiAgImVsZW1lbnQucGF0aCIgOiAicG9zaXZhLXB1Yi9vc2lvbm5pbWkiLAogICJlbGVtZW50Lmxhbmd1YWdlIiA6ICJmaSIsCiAgInB1YmxpY3VybCIgOiAiL2VsZW1lbnQuaHRtbC5zdHgiLAogICJlZGl0dXJsIiA6ICIvYmluL2dldC92ZWQvY0FxUWNPUUVPLmNBckhuVDJ4dy4wdEc1bGdjTkkiLAogICIiIDogIiIsCiAgIkdVSUQiIDogIiIsCiAgInZpZXd1cmwiIDogIi9iaW4vZ2V0L3ZpZC9jQXFRY09RRU8uY0FySG5UMnh3LjB0RzVsZ2NOSSIKfQ==
Company
Posiva Oy is an expert organisation in environmental technology, which was established in 1995. It is tasked with handling the final disposal of the spent nuclear fuel generated by its owners, because the Finnish law states that producers of nuclear waste are responsible for all nuclear waste management measures and their costs.
Posiva's final disposal solution and final disposal facility ONKALO® are the results of decades of multidisciplinary development efforts. The company handles research, development and design work aimed at final disposal, and manages the construction and entire operating life of the encapsulation plant and final disposal facility. Posiva also handles all dealings with authorities in relation its tasks, obtaining the requisite permits for the facilities to be constructed and their operations.

Posiva Solutions LtdOpen link in a new tab, established in 2016, focuses on consulting and selling the know-how accumulated from its engineering, research and development activities related to the final disposal of spent nuclear fuel. Posiva's expertise in final disposal is truly world-class.
World-Class expertise
Posiva plays a significant role in the mitigation of climate change as part of the life cycle of nuclear power, because an effective final disposal solution enables the utilisation of emission-free nuclear power in energy production.
Posiva is on its way to becoming the world's leading provider of final disposal services. Posiva is currently constructing an encapsulation plant and underground final disposal facility, for which the Finnish Government granted a building permit in 2015. The licences for Posiva's final disposal solution will be obtained through the operating licence process before starting the actual final disposal of spent fuel.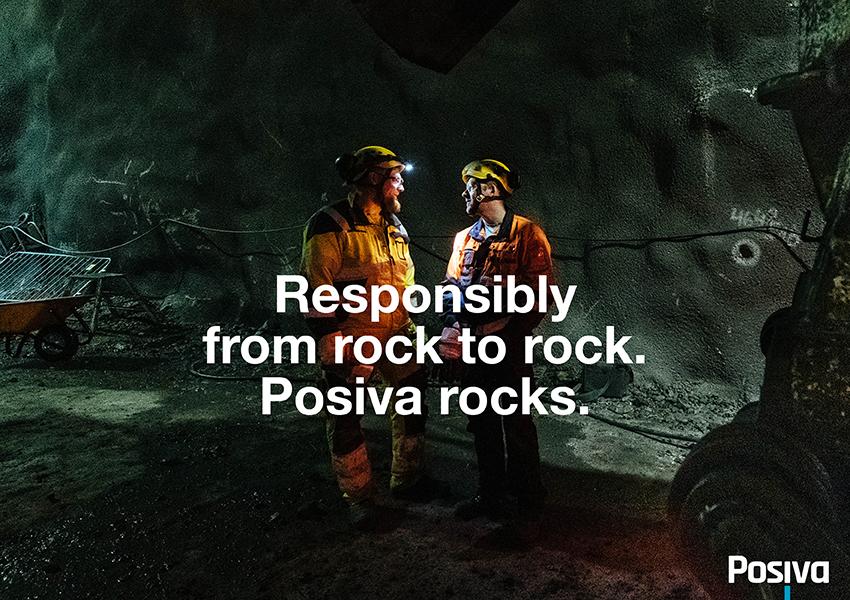 ‍