ewogICJzcmNzZXR0aSIgOiAiIiwKICAiZWxlbWVudF9tb2RlIiA6ICIiLAogICJlbGVtZW50LmNvbXBvbmVudCIgOiAidHJ1ZSIsCiAgImVsZW1lbnRfcGF0aCIgOiAiamFldHR1L2p1bGtpbmVuL2Jhbm5lciIsCiAgImVsZW1lbnQub25sb2FkIiA6ICJjbGllbnQiLAogICJlbGVtZW50LjgiIDogInRydWUiLAogICJlbGVtZW50LjYiIDogImZhbHNlIiwKICAiZWxlbWVudC41IiA6ICJmYWxzZSIsCiAgInNlY3Rpb24iIDogImRlZmF1bHQiLAogICJlbGVtZW50LnB1YmxpY2xpbmsiIDogIi9lbGVtZW50Lmh0bWwuc3R4IiwKICAiaW1wb3J0cGF0aCIgOiAiL3dlYmNvbXBvbmVudHMvamFldHR1L2p1bGtpbmVuL2Jhbm5lciIsCiAgIlVJRCIgOiAiaWRnZnFZRjhob3EiLAogICJjc3MiIDogImNzcy9iYW5uZXIuY3NzIiwKICAiZGF0YV9saXN0ZW5lcnMiIDogImphZXR0dS9qdWxraW5lbi9iYW5uZXIiLAogICJjbGFzcyIgOiAic3RhdG9lbGVtZW50IGphZXR0dS1zaXNhbHRvc2l2dS1iYW5uZXIgZC1mbGV4IGZ1bGwtd2lkdGggY29udGVudC1tb2R1bGUtLWJsb2NrIHNob3ctb3V0bGluZSBpcy1jb25uZWN0ZWQiLAogICJjYXJkY2hhbm5lbCIgOiAicHVibGljIiwKICAiQ1VSUkVOVFBBVEgiIDogIi9qYWV0dHUvanVsa2luZW4vYmFubmVyL2phZXR0dS9qdWxraW5lbi9iYW5uZXIvIiwKICAicGFha3V2YWltYWdldXJsIiA6ICIiLAogICJlbGVtZW50LmxpbmsiIDogIi9lbGVtZW50Lmh0bWwuc3R4IiwKICAidXJsZXhlY3V0ZXBhdGgiIDogIi9jaGFubmVscy9wdWJsaWMvd3d3L3Bvc2l2YS9lbi9pbmRleC9XTE80RUxXUkkvZUFnMDRhQVFPIiwKICAic2tpbiIgOiAiYmFubmVyLmh0bWwiLAogICJlbGVtZW50LmxvYWQiIDogImNsaWVudCIsCiAgImNoYW5uZWwubGFuZ3VhZ2UiIDogImVuIiwKICAiZWxlbWVudC5tb2RlIiA6ICJlbGVtZW50IiwKICAiSU5TVEFOQ0VJRCIgOiAiZ2ZxYThCNWxFIiwKICAiZWxlbWVudC5sYW5ndWFnZSIgOiAiZmkiLAogICJlbGVtZW50LnBhdGgiIDogImphZXR0dS9qdWxraW5lbi9iYW5uZXIiLAogICJlZGl0dXJsIiA6ICIvYmluL2dldC92ZWQvZUFnS2thU1JJLmVBaFJrcE95Sy4wdEc1bGdjTkkiLAogICJwdWJsaWN1cmwiIDogIi9lbGVtZW50Lmh0bWwuc3R4IiwKICAiIiA6ICIiLAogICJHVUlEIiA6ICIiLAogICJ2aWV3dXJsIiA6ICIvYmluL2dldC92aWQvZUFnS2thU1JJLmVBaFJrcE95Sy4wdEc1bGdjTkkiCn0=
ewogICJlbGVtZW50X21vZGUiIDogIiIsCiAgImVsZW1lbnQuY29tcG9uZW50IiA6ICJ0cnVlIiwKICAiZWxlbWVudF9wYXRoIiA6ICJwb3NpdmEtcHViL29zaW9ubmltaSIsCiAgImVsZW1lbnQub25sb2FkIiA6ICJjbGllbnQiLAogICJlbGVtZW50LjgiIDogInRydWUiLAogICJlbGVtZW50LjYiIDogImZhbHNlIiwKICAiZWxlbWVudC41IiA6ICJmYWxzZSIsCiAgInNlY3Rpb24iIDogImRlZmF1bHQiLAogICJlbGVtZW50LnB1YmxpY2xpbmsiIDogIi9lbGVtZW50Lmh0bWwuc3R4IiwKICAiaW1wb3J0cGF0aCIgOiAiL3dlYmNvbXBvbmVudHMvcG9zaXZhLXB1Yi9vc2lvbm5pbWkiLAogICJVSUQiIDogImlkZ2ZxTk1GV2xRIiwKICAiY3NzIiA6ICJjc3Mvb3Npb25uaW1pLmNzcyIsCiAgImRhdGFfbGlzdGVuZXJzIiA6ICJwb3NpdmEtcHViL29zaW9ubmltaSIsCiAgImNhcmRjaGFubmVsIiA6ICJwdWJsaWMiLAogICJDVVJSRU5UUEFUSCIgOiAiL3Bvc2l2YS1wdWIvb3Npb25uaW1pL3Bvc2l2YS1wdWIvb3Npb25uaW1pLyIsCiAgInVybGV4ZWN1dGVwYXRoIiA6ICIvY2hhbm5lbHMvcHVibGljL3d3dy9wb3NpdmEvZW4vaW5kZXgvV0xPNEVMV1JJL2VBZzA0YUFRTyIsCiAgImVsZW1lbnQubGluayIgOiAiL2VsZW1lbnQuaHRtbC5zdHgiLAogICJza2luIiA6ICIvdG9vbHMvZWxlbWVudHMvZWxlbWVudC9za2lucy9odG1sL2VsZW1lbnQuaHRtbCIsCiAgImVsZW1lbnQubG9hZCIgOiAiY2xpZW50IiwKICAiSU5TVEFOQ0VJRCIgOiAiZ2ZxUDlMM1lpIiwKICAiZWxlbWVudC5tb2RlIiA6ICJlbGVtZW50IiwKICAiY2hhbm5lbC5sYW5ndWFnZSIgOiAiZW4iLAogICJlbGVtZW50LnBhdGgiIDogInBvc2l2YS1wdWIvb3Npb25uaW1pIiwKICAiZWxlbWVudC5sYW5ndWFnZSIgOiAiZmkiLAogICJwdWJsaWN1cmwiIDogIi9lbGVtZW50Lmh0bWwuc3R4IiwKICAiZWRpdHVybCIgOiAiL2Jpbi9nZXQvdmVkL2VBZ0trYVNSSS5lQWhSa3BPeUsuMHRHNWxnY05JIiwKICAiIiA6ICIiLAogICJHVUlEIiA6ICIiLAogICJ2aWV3dXJsIiA6ICIvYmluL2dldC92aWQvZUFnS2thU1JJLmVBaFJrcE95Sy4wdEc1bGdjTkkiCn0=
EKA project's strong impact on vitality
In 2019, Posiva kicked off the EKA project, which aims at initiating final disposal operations in the 2020s. The project involves constructing an above-ground encapsulation plant and installing the systems for final disposal in the underground ONKALO® facility, obtaining the requisite licences for the final disposal concept, the facility and its systems, and preparing the supply chains needed for production, before starting the actual final disposal of spent nuclear fuel.
According to President of Posiva Janne Mokka, the Finnish nuclear energy sector can take pride in the EKA project progressing into the implementation phase; once the operating licences have been secured, Olkiluoto will be the first location in the world to begin safe final disposal.

"In Finland, the management of the entire life cycle is a precondition for climate-friendly nuclear electricity production. Posiva will conduct the final disposal of spent nuclear fuel from the Olkiluoto and Loviisa power plants in a responsible manner," Mokka says.
The cost estimate of the large-scale construction project in Eurajoki (Satakunta region) is approximately €500 million, and its employment impact is about 2,500 person years. The project will employ a maximum of some 500 people.
The multidisciplinary project requires world-class expertise.
"The project is driven forward by the key experts who have been developing a safe final disposal concept for nearly four decades, the professional project personnel and the partners involved. We will be signing agreements on important project contracts in the near future," Mokka explains.
Posiva is a notable employer. In the context of the transition from project preparations to implementation, Posiva will be constructing and commissioning the encapsulation plant, excavating the first deposition tunnels. After this, the final disposal activities will begin in 2020s. Through financially responsible operations, Posiva strives to ensure the vitality of its partner companies and the well-being of their personnel.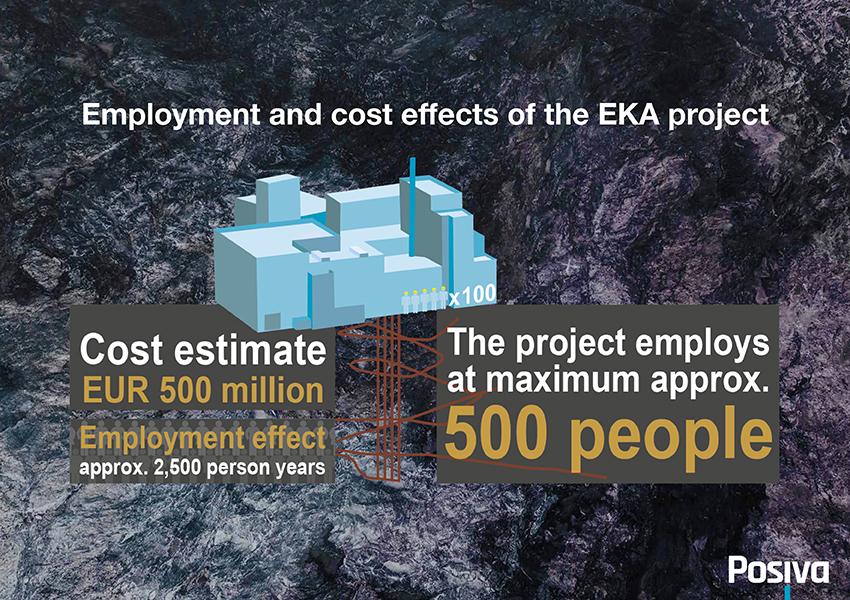 ‍