ewogICJzcmNzZXR0aSIgOiAiIiwKICAiZWxlbWVudF9tb2RlIiA6ICIiLAogICJlbGVtZW50LmNvbXBvbmVudCIgOiAidHJ1ZSIsCiAgImVsZW1lbnRfcGF0aCIgOiAiamFldHR1L2p1bGtpbmVuL2Jhbm5lciIsCiAgImVsZW1lbnQub25sb2FkIiA6ICJjbGllbnQiLAogICJlbGVtZW50LjgiIDogInRydWUiLAogICJlbGVtZW50LjYiIDogImZhbHNlIiwKICAiZWxlbWVudC41IiA6ICJmYWxzZSIsCiAgInNlY3Rpb24iIDogImRlZmF1bHQiLAogICJlbGVtZW50LnB1YmxpY2xpbmsiIDogIi9lbGVtZW50Lmh0bWwuc3R4IiwKICAiaW1wb3J0cGF0aCIgOiAiL3dlYmNvbXBvbmVudHMvamFldHR1L2p1bGtpbmVuL2Jhbm5lciIsCiAgIlVJRCIgOiAiaWRnbW93Y3BiWUsiLAogICJjc3MiIDogImNzcy9iYW5uZXIuY3NzIiwKICAiZGF0YV9saXN0ZW5lcnMiIDogImphZXR0dS9qdWxraW5lbi9iYW5uZXIiLAogICJjbGFzcyIgOiAic3RhdG9lbGVtZW50IGphZXR0dS1zaXNhbHRvc2l2dS1iYW5uZXIgZC1mbGV4IGZ1bGwtd2lkdGggY29udGVudC1tb2R1bGUtLWJsb2NrIHNob3ctb3V0bGluZSBpcy1jb25uZWN0ZWQiLAogICJjYXJkY2hhbm5lbCIgOiAicHVibGljIiwKICAiQ1VSUkVOVFBBVEgiIDogIi9qYWV0dHUvanVsa2luZW4vYmFubmVyL2phZXR0dS9qdWxraW5lbi9iYW5uZXIvIiwKICAicGFha3V2YWltYWdldXJsIiA6ICIiLAogICJlbGVtZW50LmxpbmsiIDogIi9lbGVtZW50Lmh0bWwuc3R4IiwKICAidXJsZXhlY3V0ZXBhdGgiIDogIi9jaGFubmVscy9wdWJsaWMvd3d3L3Bvc2l2YS9lbi9pbmRleC9wb3NpdmEvWWd2a0RxZmthIiwKICAic2tpbiIgOiAiYmFubmVyLmh0bWwiLAogICJlbGVtZW50LmxvYWQiIDogImNsaWVudCIsCiAgImNoYW5uZWwubGFuZ3VhZ2UiIDogImVuIiwKICAiZWxlbWVudC5tb2RlIiA6ICJlbGVtZW50IiwKICAiSU5TVEFOQ0VJRCIgOiAiZ21veXNCYzVzIiwKICAiZWxlbWVudC5sYW5ndWFnZSIgOiAiZmkiLAogICJlbGVtZW50LnBhdGgiIDogImphZXR0dS9qdWxraW5lbi9iYW5uZXIiLAogICJlZGl0dXJsIiA6ICIvYmluL2dldC92ZWQvWWd3MHNTdW1hLllnd3p3QWRwNi4wdEc1bGdjTkkiLAogICJwdWJsaWN1cmwiIDogIi9lbGVtZW50Lmh0bWwuc3R4IiwKICAiIiA6ICIiLAogICJHVUlEIiA6ICIiLAogICJ2aWV3dXJsIiA6ICIvYmluL2dldC92aWQvWWd3MHNTdW1hLllnd3p3QWRwNi4wdEc1bGdjTkkiCn0=
ewogICJlbGVtZW50X21vZGUiIDogIiIsCiAgImVsZW1lbnQuY29tcG9uZW50IiA6ICJ0cnVlIiwKICAiZWxlbWVudF9wYXRoIiA6ICJwb3NpdmEtcHViL29zaW9ubmltaSIsCiAgImVsZW1lbnQub25sb2FkIiA6ICJjbGllbnQiLAogICJlbGVtZW50LjgiIDogInRydWUiLAogICJlbGVtZW50LjYiIDogImZhbHNlIiwKICAiZWxlbWVudC41IiA6ICJmYWxzZSIsCiAgInNlY3Rpb24iIDogImRlZmF1bHQiLAogICJlbGVtZW50LnB1YmxpY2xpbmsiIDogIi9lbGVtZW50Lmh0bWwuc3R4IiwKICAiaW1wb3J0cGF0aCIgOiAiL3dlYmNvbXBvbmVudHMvcG9zaXZhLXB1Yi9vc2lvbm5pbWkiLAogICJVSUQiIDogImlkZ21vbFRjMzRHIiwKICAiY3NzIiA6ICJjc3Mvb3Npb25uaW1pLmNzcyIsCiAgImRhdGFfbGlzdGVuZXJzIiA6ICJwb3NpdmEtcHViL29zaW9ubmltaSIsCiAgImNhcmRjaGFubmVsIiA6ICJwdWJsaWMiLAogICJDVVJSRU5UUEFUSCIgOiAiL3Bvc2l2YS1wdWIvb3Npb25uaW1pL3Bvc2l2YS1wdWIvb3Npb25uaW1pLyIsCiAgInVybGV4ZWN1dGVwYXRoIiA6ICIvY2hhbm5lbHMvcHVibGljL3d3dy9wb3NpdmEvZW4vaW5kZXgvcG9zaXZhL1lndmtEcWZrYSIsCiAgImVsZW1lbnQubGluayIgOiAiL2VsZW1lbnQuaHRtbC5zdHgiLAogICJza2luIiA6ICIvdG9vbHMvZWxlbWVudHMvZWxlbWVudC9za2lucy9odG1sL2VsZW1lbnQuaHRtbCIsCiAgImVsZW1lbnQubG9hZCIgOiAiY2xpZW50IiwKICAiSU5TVEFOQ0VJRCIgOiAiZ21vbkVUQmpvIiwKICAiZWxlbWVudC5tb2RlIiA6ICJlbGVtZW50IiwKICAiY2hhbm5lbC5sYW5ndWFnZSIgOiAiZW4iLAogICJlbGVtZW50LnBhdGgiIDogInBvc2l2YS1wdWIvb3Npb25uaW1pIiwKICAiZWxlbWVudC5sYW5ndWFnZSIgOiAiZmkiLAogICJwdWJsaWN1cmwiIDogIi9lbGVtZW50Lmh0bWwuc3R4IiwKICAiZWRpdHVybCIgOiAiL2Jpbi9nZXQvdmVkL1lndzBzU3VtYS5ZZ3d6d0FkcDYuMHRHNWxnY05JIiwKICAiIiA6ICIiLAogICJHVUlEIiA6ICIiLAogICJ2aWV3dXJsIiA6ICIvYmluL2dldC92aWQvWWd3MHNTdW1hLllnd3p3QWRwNi4wdEc1bGdjTkkiCn0=
Owners
Posiva Oy is a joint venture of Teollisuuden Voima Oyj and Fortum Power and Heat Oy.
TVO and Fortum own 60% and 40% of the A series shares, respectively. In terms of B series shares, TVO owns 73.62% while Fortum's holding is 26.38%.
Posiva Oy and its subsidiary Posiva Solutions Oy form Posiva Group. The Group's parent company is Posiva Oy, which has its registered office in Eurajoki.
Together with TVO and TVO Nuclear Services Ltd, Posiva Oy and Posiva Solutions Oy form TVO Group.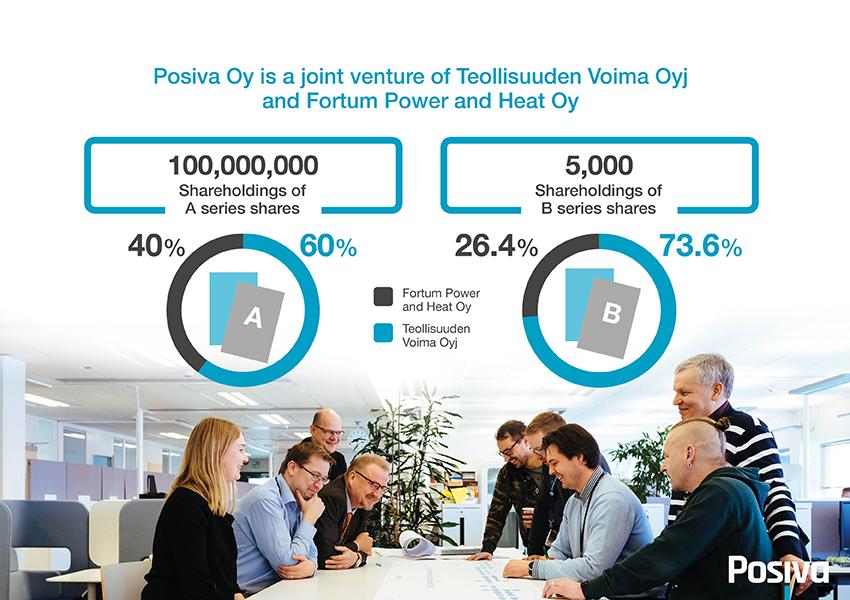 ‍