ewogICJzcmNzZXR0aSIgOiAiIiwKICAiZWxlbWVudF9tb2RlIiA6ICIiLAogICJlbGVtZW50LmNvbXBvbmVudCIgOiAidHJ1ZSIsCiAgImVsZW1lbnRfcGF0aCIgOiAiamFldHR1L2p1bGtpbmVuL2Jhbm5lciIsCiAgImVsZW1lbnQub25sb2FkIiA6ICJjbGllbnQiLAogICJlbGVtZW50LjgiIDogInRydWUiLAogICJlbGVtZW50LjYiIDogImZhbHNlIiwKICAiZWxlbWVudC41IiA6ICJmYWxzZSIsCiAgInNlY3Rpb24iIDogImRlZmF1bHQiLAogICJlbGVtZW50LnB1YmxpY2xpbmsiIDogIi9lbGVtZW50Lmh0bWwuc3R4IiwKICAiaW1wb3J0cGF0aCIgOiAiL3dlYmNvbXBvbmVudHMvamFldHR1L2p1bGtpbmVuL2Jhbm5lciIsCiAgIlVJRCIgOiAiaWRnZkR4U0hMNjQiLAogICJjc3MiIDogImNzcy9iYW5uZXIuY3NzIiwKICAiZGF0YV9saXN0ZW5lcnMiIDogImphZXR0dS9qdWxraW5lbi9iYW5uZXIiLAogICJjbGFzcyIgOiAic3RhdG9lbGVtZW50IGphZXR0dS1zaXNhbHRvc2l2dS1iYW5uZXIgZC1mbGV4IGZ1bGwtd2lkdGggY29udGVudC1tb2R1bGUtLWJsb2NrIHNob3ctb3V0bGluZSBpcy1jb25uZWN0ZWQiLAogICJjYXJkY2hhbm5lbCIgOiAicHVibGljIiwKICAiQ1VSUkVOVFBBVEgiIDogIi9qYWV0dHUvanVsa2luZW4vYmFubmVyL2phZXR0dS9qdWxraW5lbi9iYW5uZXIvIiwKICAicGFha3V2YWltYWdldXJsIiA6ICIiLAogICJlbGVtZW50LmxpbmsiIDogIi9lbGVtZW50Lmh0bWwuc3R4IiwKICAidXJsZXhlY3V0ZXBhdGgiIDogIi9jaGFubmVscy9wdWJsaWMvd3d3L3Bvc2l2YS9lbi9pbmRleC9XTE80RUxXUkkvME1yT2VqeWF5IiwKICAic2tpbiIgOiAiYmFubmVyLmh0bWwiLAogICJlbGVtZW50LmxvYWQiIDogImNsaWVudCIsCiAgImNoYW5uZWwubGFuZ3VhZ2UiIDogImVuIiwKICAiZWxlbWVudC5tb2RlIiA6ICJlbGVtZW50IiwKICAiSU5TVEFOQ0VJRCIgOiAiZ2ZEekdZQmc0IiwKICAiZWxlbWVudC5sYW5ndWFnZSIgOiAiZmkiLAogICJlbGVtZW50LnBhdGgiIDogImphZXR0dS9qdWxraW5lbi9iYW5uZXIiLAogICJlZGl0dXJsIiA6ICIvYmluL2dldC92ZWQvME1yZm5McFBnLjBNc2N4cUxyQS4wdEc1bGdjTkkiLAogICJwdWJsaWN1cmwiIDogIi9lbGVtZW50Lmh0bWwuc3R4IiwKICAiIiA6ICIiLAogICJHVUlEIiA6ICIiLAogICJ2aWV3dXJsIiA6ICIvYmluL2dldC92aWQvME1yZm5McFBnLjBNc2N4cUxyQS4wdEc1bGdjTkkiCn0=
ewogICJlbGVtZW50X21vZGUiIDogIiIsCiAgImVsZW1lbnQuY29tcG9uZW50IiA6ICJ0cnVlIiwKICAiZWxlbWVudF9wYXRoIiA6ICJwb3NpdmEtcHViL29zaW9ubmltaSIsCiAgImVsZW1lbnQub25sb2FkIiA6ICJjbGllbnQiLAogICJlbGVtZW50LjgiIDogInRydWUiLAogICJlbGVtZW50LjYiIDogImZhbHNlIiwKICAiZWxlbWVudC41IiA6ICJmYWxzZSIsCiAgInNlY3Rpb24iIDogImRlZmF1bHQiLAogICJlbGVtZW50LnB1YmxpY2xpbmsiIDogIi9lbGVtZW50Lmh0bWwuc3R4IiwKICAiaW1wb3J0cGF0aCIgOiAiL3dlYmNvbXBvbmVudHMvcG9zaXZhLXB1Yi9vc2lvbm5pbWkiLAogICJVSUQiIDogImlkZ2ZEbU1pblhBIiwKICAiY3NzIiA6ICJjc3Mvb3Npb25uaW1pLmNzcyIsCiAgImRhdGFfbGlzdGVuZXJzIiA6ICJwb3NpdmEtcHViL29zaW9ubmltaSIsCiAgImNhcmRjaGFubmVsIiA6ICJwdWJsaWMiLAogICJDVVJSRU5UUEFUSCIgOiAiL3Bvc2l2YS1wdWIvb3Npb25uaW1pL3Bvc2l2YS1wdWIvb3Npb25uaW1pLyIsCiAgInVybGV4ZWN1dGVwYXRoIiA6ICIvY2hhbm5lbHMvcHVibGljL3d3dy9wb3NpdmEvZW4vaW5kZXgvV0xPNEVMV1JJLzBNck9lanlheSIsCiAgImVsZW1lbnQubGluayIgOiAiL2VsZW1lbnQuaHRtbC5zdHgiLAogICJza2luIiA6ICIvdG9vbHMvZWxlbWVudHMvZWxlbWVudC9za2lucy9odG1sL2VsZW1lbnQuaHRtbCIsCiAgImVsZW1lbnQubG9hZCIgOiAiY2xpZW50IiwKICAiSU5TVEFOQ0VJRCIgOiAiZ2ZEbzdVQUZBIiwKICAiZWxlbWVudC5tb2RlIiA6ICJlbGVtZW50IiwKICAiY2hhbm5lbC5sYW5ndWFnZSIgOiAiZW4iLAogICJlbGVtZW50LnBhdGgiIDogInBvc2l2YS1wdWIvb3Npb25uaW1pIiwKICAiZWxlbWVudC5sYW5ndWFnZSIgOiAiZmkiLAogICJwdWJsaWN1cmwiIDogIi9lbGVtZW50Lmh0bWwuc3R4IiwKICAiZWRpdHVybCIgOiAiL2Jpbi9nZXQvdmVkLzBNcmZuTHBQZy4wTXNjeHFMckEuMHRHNWxnY05JIiwKICAiIiA6ICIiLAogICJHVUlEIiA6ICIiLAogICJ2aWV3dXJsIiA6ICIvYmluL2dldC92aWQvME1yZm5McFBnLjBNc2N4cUxyQS4wdEc1bGdjTkkiCn0=
World-Class experts
Posiva has been developing the final disposal solution for over 40 years. The multidisciplinary project requires world-class expertise.
The lead role in the EKA project, starting the final disposal operations, is played by the experts of project operations, who have been developing the safe final disposal concept for almost 40 years, and Posiva's partners. Posiva has concluded numerous important piecework agreements of the EKA project.

Posiva employees are world-class experts on final disposal who specialise in safe and industrial final disposal. Most of the experts have a higher education degree.
Posiva offers its personnel a wide range of tasks and opportunities to improve their skills in their work. Personnel training is extensive and continues throughout their careers. The high level of competence is achieved through area-specific training requirements, work rotation, induction and work guidance.
Posiva rewards its personnel competitively and encourages efficient work, achievement of goals and good everyday activities.
Posiva is a major employer in the region. The expertise of Posiva personnel is also in high demand for final disposal projects throughout the world. Posiva Solutions LtdOpen link in a new tab, a subsidiary of Posiva, responds to this demand.
The EKA project employs local, domestic and foreign partners. Posiva requires all of its partners to follow the principles specified in the Code of Conduct, including compliance with laws and regulations without any deviations. To ensure this, the supplier's assessment and approval process is used, which requires the partners to comply with the quality and operating method criteria, safety culture and ethical principles set by Posiva.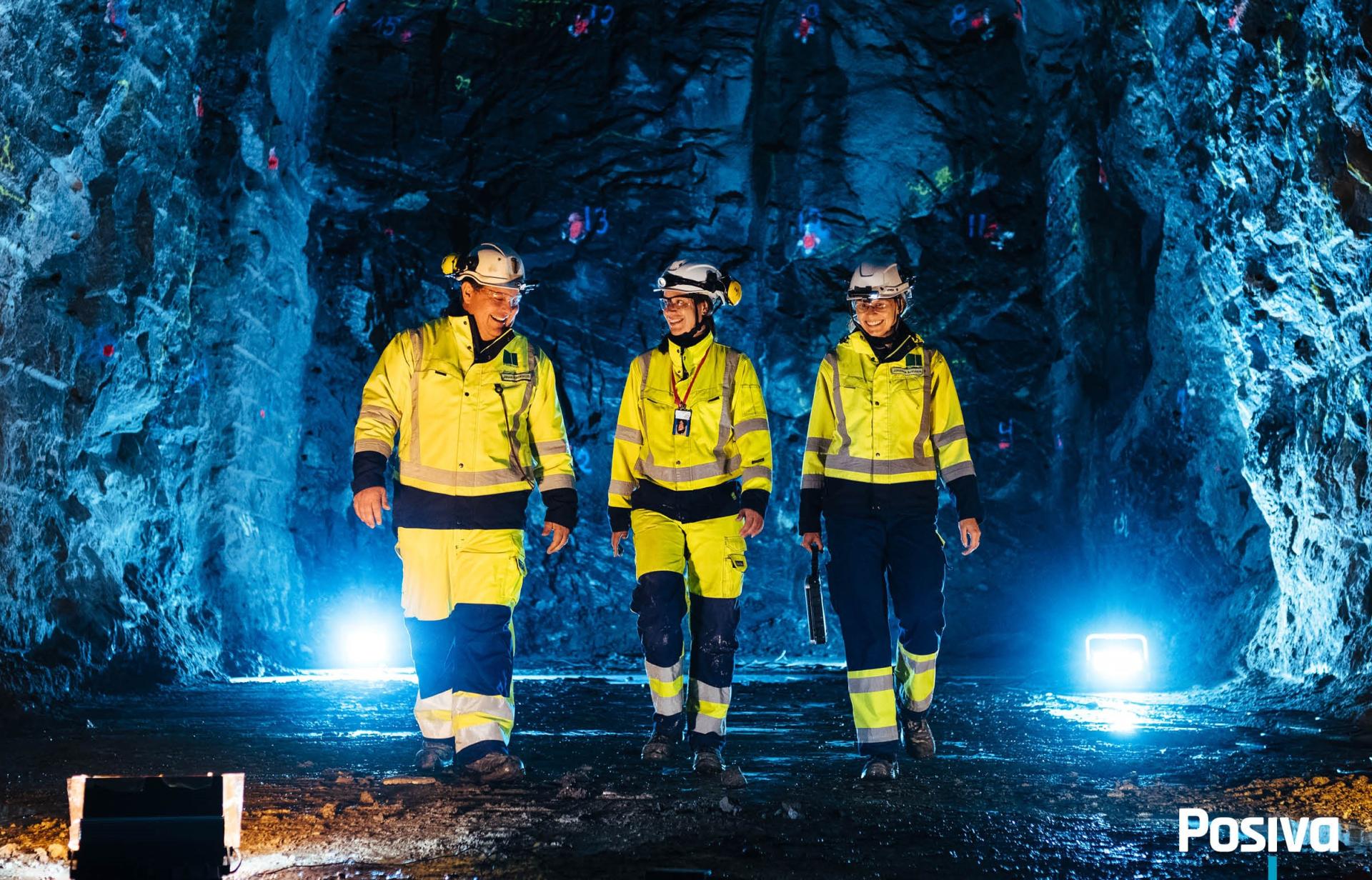 ‍