ewogICJzcmNzZXR0aSIgOiAiIiwKICAiZWxlbWVudF9tb2RlIiA6ICIiLAogICJlbGVtZW50LmNvbXBvbmVudCIgOiAidHJ1ZSIsCiAgImVsZW1lbnRfcGF0aCIgOiAiamFldHR1L2p1bGtpbmVuL2Jhbm5lciIsCiAgImVsZW1lbnQub25sb2FkIiA6ICJjbGllbnQiLAogICJlbGVtZW50LjgiIDogInRydWUiLAogICJlbGVtZW50LjYiIDogImZhbHNlIiwKICAiZWxlbWVudC41IiA6ICJmYWxzZSIsCiAgInNlY3Rpb24iIDogImRlZmF1bHQiLAogICJlbGVtZW50LnB1YmxpY2xpbmsiIDogIi9lbGVtZW50Lmh0bWwuc3R4IiwKICAiaW1wb3J0cGF0aCIgOiAiL3dlYmNvbXBvbmVudHMvamFldHR1L2p1bGtpbmVuL2Jhbm5lciIsCiAgIlVJRCIgOiAiaWRnbDBuUVNpaFEiLAogICJjc3MiIDogImNzcy9iYW5uZXIuY3NzIiwKICAiZGF0YV9saXN0ZW5lcnMiIDogImphZXR0dS9qdWxraW5lbi9iYW5uZXIiLAogICJjbGFzcyIgOiAic3RhdG9lbGVtZW50IGphZXR0dS1zaXNhbHRvc2l2dS1iYW5uZXIgZC1mbGV4IGZ1bGwtd2lkdGggY29udGVudC1tb2R1bGUtLWJsb2NrIHNob3ctb3V0bGluZSBpcy1jb25uZWN0ZWQiLAogICJjYXJkY2hhbm5lbCIgOiAicHVibGljIiwKICAiQ1VSUkVOVFBBVEgiIDogIi9qYWV0dHUvanVsa2luZW4vYmFubmVyL2phZXR0dS9qdWxraW5lbi9iYW5uZXIvIiwKICAicGFha3V2YWltYWdldXJsIiA6ICIiLAogICJlbGVtZW50LmxpbmsiIDogIi9lbGVtZW50Lmh0bWwuc3R4IiwKICAidXJsZXhlY3V0ZXBhdGgiIDogIi9jaGFubmVscy9wdWJsaWMvd3d3L3Bvc2l2YS9lbi9pbmRleC9maW5hbGRpc3Bvc2FsL3A1UkRJSVhQMiIsCiAgInNraW4iIDogImJhbm5lci5odG1sIiwKICAiZWxlbWVudC5sb2FkIiA6ICJjbGllbnQiLAogICJjaGFubmVsLmxhbmd1YWdlIiA6ICJlbiIsCiAgImVsZW1lbnQubW9kZSIgOiAiZWxlbWVudCIsCiAgIklOU1RBTkNFSUQiIDogImdsMHBORXBCYyIsCiAgImVsZW1lbnQubGFuZ3VhZ2UiIDogImZpIiwKICAiZWxlbWVudC5wYXRoIiA6ICJqYWV0dHUvanVsa2luZW4vYmFubmVyIiwKICAiZWRpdHVybCIgOiAiL2Jpbi9nZXQvdmVkL3A1UlZlU1NZRy5wNVNwR09rWGMuMHRHNWxnY05JIiwKICAicHVibGljdXJsIiA6ICIvZWxlbWVudC5odG1sLnN0eCIsCiAgIiIgOiAiIiwKICAiR1VJRCIgOiAiIiwKICAidmlld3VybCIgOiAiL2Jpbi9nZXQvdmlkL3A1UlZlU1NZRy5wNVNwR09rWGMuMHRHNWxnY05JIgp9
ewogICJlbGVtZW50X21vZGUiIDogIiIsCiAgImVsZW1lbnQuY29tcG9uZW50IiA6ICJ0cnVlIiwKICAiZWxlbWVudF9wYXRoIiA6ICJwb3NpdmEtcHViL29zaW9ubmltaSIsCiAgImVsZW1lbnQub25sb2FkIiA6ICJjbGllbnQiLAogICJlbGVtZW50LjgiIDogInRydWUiLAogICJlbGVtZW50LjYiIDogImZhbHNlIiwKICAiZWxlbWVudC41IiA6ICJmYWxzZSIsCiAgInNlY3Rpb24iIDogImRlZmF1bHQiLAogICJlbGVtZW50LnB1YmxpY2xpbmsiIDogIi9lbGVtZW50Lmh0bWwuc3R4IiwKICAiaW1wb3J0cGF0aCIgOiAiL3dlYmNvbXBvbmVudHMvcG9zaXZhLXB1Yi9vc2lvbm5pbWkiLAogICJVSUQiIDogImlkZ2wwYnNKNG00IiwKICAiY3NzIiA6ICJjc3Mvb3Npb25uaW1pLmNzcyIsCiAgImRhdGFfbGlzdGVuZXJzIiA6ICJwb3NpdmEtcHViL29zaW9ubmltaSIsCiAgImNhcmRjaGFubmVsIiA6ICJwdWJsaWMiLAogICJDVVJSRU5UUEFUSCIgOiAiL3Bvc2l2YS1wdWIvb3Npb25uaW1pL3Bvc2l2YS1wdWIvb3Npb25uaW1pLyIsCiAgInVybGV4ZWN1dGVwYXRoIiA6ICIvY2hhbm5lbHMvcHVibGljL3d3dy9wb3NpdmEvZW4vaW5kZXgvZmluYWxkaXNwb3NhbC9wNVJESUlYUDIiLAogICJlbGVtZW50LmxpbmsiIDogIi9lbGVtZW50Lmh0bWwuc3R4IiwKICAic2tpbiIgOiAiL3Rvb2xzL2VsZW1lbnRzL2VsZW1lbnQvc2tpbnMvaHRtbC9lbGVtZW50Lmh0bWwiLAogICJlbGVtZW50LmxvYWQiIDogImNsaWVudCIsCiAgIklOU1RBTkNFSUQiIDogImdsMGRyNkVObyIsCiAgImVsZW1lbnQubW9kZSIgOiAiZWxlbWVudCIsCiAgImNoYW5uZWwubGFuZ3VhZ2UiIDogImVuIiwKICAiZWxlbWVudC5wYXRoIiA6ICJwb3NpdmEtcHViL29zaW9ubmltaSIsCiAgImVsZW1lbnQubGFuZ3VhZ2UiIDogImZpIiwKICAicHVibGljdXJsIiA6ICIvZWxlbWVudC5odG1sLnN0eCIsCiAgImVkaXR1cmwiIDogIi9iaW4vZ2V0L3ZlZC9wNVJWZVNTWUcucDVTcEdPa1hjLjB0RzVsZ2NOSSIsCiAgIiIgOiAiIiwKICAiR1VJRCIgOiAiIiwKICAidmlld3VybCIgOiAiL2Jpbi9nZXQvdmlkL3A1UlZlU1NZRy5wNVNwR09rWGMuMHRHNWxnY05JIgp9
Site surveys
Analyses on safe final disposal of spent fuel began as early as the 1970s.
Finland determined the guidelines and target schedules for nuclear waste management back in 1983, when the Finnish Government presented the overall plan for carrying out nuclear waste management with the target schedules. The Nuclear Energy Act entered into force in 1994, according to which nuclear waste must be handled, stored and permanently disposed of in Finland and nuclear waste of other countries must not be imported to Finland. Posiva Oy was founded in 1995 to seek a solution to this issue.
After the initial phase analyses, site surveys were carried out in Finland in the 1990s. In addition to Olkiluoto in Eurajoki, further investigations were carried out in Kivetty in Äänekoski, Romuvaara in Kuhmo and Hästholmen in Loviisa out of several different options. In addition to geological surveys, the socio-economic impact of final disposal on the locations were also analysed, and the logistics of spent fuel and the infrastructure of the areas were examined. Loviisa and Olkiluoto in Eurajoki were selected for final surveys. In these locations, residents were used to the fact that Finns are responsible operators in the nuclear sector. The idea of final disposal was therefore more natural.
The turn of the millennium was a significant milestone in final disposal planning, as Olkiluoto in Eurajoki was chosen as the final disposal site. Since the Finnish Government's decision-in-principle required a more thorough examination of bedrock, Posiva had to reach the depth of final disposal. At the time, the options of using shafts, an access tunnel or their combination were considered in order to access the required depth in bedrock. Finally, it was decided to construct ONKALO with a combination of shafts and an access tunnel in 2004.
For the past twenty years, the investigations have focused on Olkiluoto Island. Their task has been to confirm Olkiluoto's suitability for final disposal.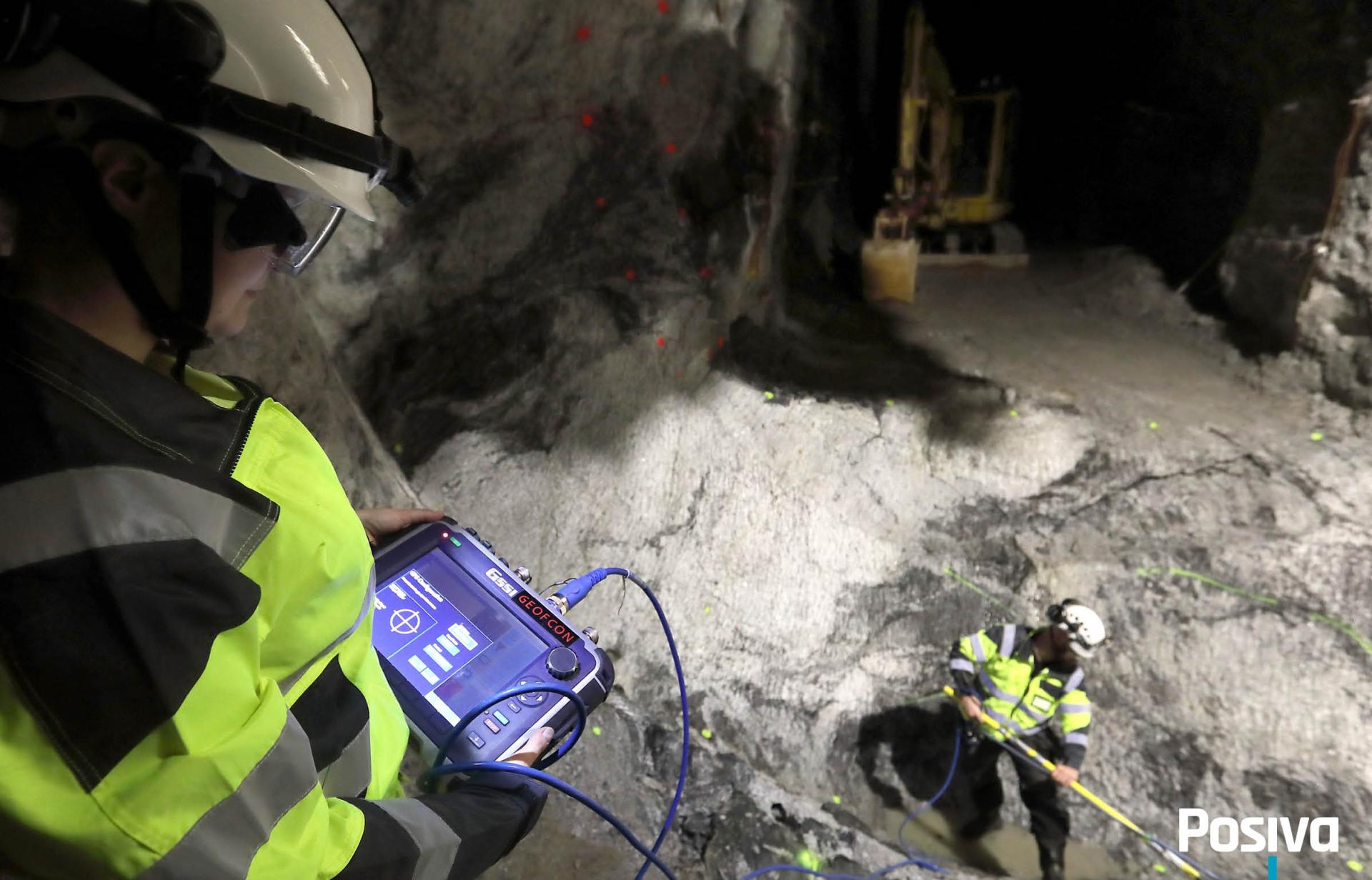 ‍