ewogICJzcmNzZXR0aSIgOiAiL21hdGVyaWFsL2NvbGxlY3Rpb25zLzIwMjAwOTIxMTIwNTIyLzdLV3F2RzZJYi9jcm9wcGVkLWltYWdlcy8xNjA0NjQ0OTYyOTI5X2Nyb3BwZWRfa2Fwc2Vsb2ludGlsYWl0b3N0eW9tYWFfYXVyaW5nb25sYXNrdXNzYS0xXzMwMC5qcGcgMzAwdywvbWF0ZXJpYWwvY29sbGVjdGlvbnMvMjAyMDA5MjExMjA1MjIvN0tXcXZHNkliL2Nyb3BwZWQtaW1hZ2VzLzE2MDQ2NDQ5NjI5MjlfY3JvcHBlZF9rYXBzZWxvaW50aWxhaXRvc3R5b21hYV9hdXJpbmdvbmxhc2t1c3NhLTFfNTAuanBnIDQwdywvbWF0ZXJpYWwvY29sbGVjdGlvbnMvMjAyMDA5MjExMjA1MjIvN0tXcXZHNkliL2Nyb3BwZWQtaW1hZ2VzLzE2MDQ2NDQ5NjI5MjlfY3JvcHBlZF9rYXBzZWxvaW50aWxhaXRvc3R5b21hYV9hdXJpbmdvbmxhc2t1c3NhLTFfMTUwLmpwZyAxMjB3LC9tYXRlcmlhbC9jb2xsZWN0aW9ucy8yMDIwMDkyMTEyMDUyMi83S1dxdkc2SWIvY3JvcHBlZC1pbWFnZXMvMTYwNDY0NDk2MjkyOV9jcm9wcGVkX2thcHNlbG9pbnRpbGFpdG9zdHlvbWFhX2F1cmluZ29ubGFza3Vzc2EtMV80MDAuanBnIDMyMHcsL21hdGVyaWFsL2NvbGxlY3Rpb25zLzIwMjAwOTIxMTIwNTIyLzdLV3F2RzZJYi9jcm9wcGVkLWltYWdlcy8xNjA0NjQ0OTYyOTI5X2Nyb3BwZWRfa2Fwc2Vsb2ludGlsYWl0b3N0eW9tYWFfYXVyaW5nb25sYXNrdXNzYS0xXzgwMC5qcGcgNjQwdywvbWF0ZXJpYWwvY29sbGVjdGlvbnMvMjAyMDA5MjExMjA1MjIvN0tXcXZHNkliL2Nyb3BwZWQtaW1hZ2VzLzE2MDQ2NDQ5NjI5MjlfY3JvcHBlZF9rYXBzZWxvaW50aWxhaXRvc3R5b21hYV9hdXJpbmdvbmxhc2t1c3NhLTFfMTI4MC5qcGcgMTAyNHciLAogICJlbGVtZW50X21vZGUiIDogIiIsCiAgImVsZW1lbnQuY29tcG9uZW50IiA6ICJ0cnVlIiwKICAiZWxlbWVudF9wYXRoIiA6ICJqYWV0dHUvanVsa2luZW4vYmFubmVyIiwKICAiZWxlbWVudC5vbmxvYWQiIDogImNsaWVudCIsCiAgImVsZW1lbnQuOCIgOiAidHJ1ZSIsCiAgImVsZW1lbnQuNiIgOiAiZmFsc2UiLAogICJlbGVtZW50LjUiIDogImZhbHNlIiwKICAic2VjdGlvbiIgOiAiZGVmYXVsdCIsCiAgImVsZW1lbnQucHVibGljbGluayIgOiAiL2VsZW1lbnQuaHRtbC5zdHgiLAogICJpbXBvcnRwYXRoIiA6ICIvd2ViY29tcG9uZW50cy9qYWV0dHUvanVsa2luZW4vYmFubmVyIiwKICAiVUlEIiA6ICJpZEU4ZFo2TXVXeSIsCiAgImNzcyIgOiAiY3NzL2Jhbm5lci5jc3MiLAogICJkYXRhX2xpc3RlbmVycyIgOiAiamFldHR1L2p1bGtpbmVuL2Jhbm5lciIsCiAgImNsYXNzIiA6ICJzdGF0b2VsZW1lbnQgamFldHR1LXNpc2FsdG9zaXZ1LWJhbm5lciBkLWZsZXggZnVsbC13aWR0aCBjb250ZW50LW1vZHVsZS0tYmxvY2sgc2hvdy1vdXRsaW5lIGlzLWNvbm5lY3RlZCIsCiAgImNhcmRjaGFubmVsIiA6ICJwdWJsaWMiLAogICJDVVJSRU5UUEFUSCIgOiAiL2phZXR0dS9qdWxraW5lbi9iYW5uZXIvamFldHR1L2p1bGtpbmVuL2Jhbm5lci8iLAogICJwYWFrdXZhaW1hZ2V1cmwiIDogIi9tYXRlcmlhbC9jb2xsZWN0aW9ucy8yMDIwMDkyMTEyMDUyMi83S1dxdkc2SWIvY3JvcHBlZC1pbWFnZXMvMTYwNDY0NDk2MjkyOV9jcm9wcGVkX2thcHNlbG9pbnRpbGFpdG9zdHlvbWFhX2F1cmluZ29ubGFza3Vzc2EtMS5qcGciLAogICJlbGVtZW50LmxpbmsiIDogIi9lbGVtZW50Lmh0bWwuc3R4IiwKICAidXJsZXhlY3V0ZXBhdGgiIDogIi9jaGFubmVscy9wdWJsaWMvd3d3L3Bvc2l2YS9lbi9pbmRleC9XTE80RUxXUkkiLAogICJza2luIiA6ICJiYW5uZXIuaHRtbCIsCiAgImVsZW1lbnQubG9hZCIgOiAiY2xpZW50IiwKICAiY2hhbm5lbC5sYW5ndWFnZSIgOiAiZW4iLAogICJlbGVtZW50Lm1vZGUiIDogImVsZW1lbnQiLAogICJJTlNUQU5DRUlEIiA6ICJFOGRYS3U0aUMiLAogICJlbGVtZW50Lmxhbmd1YWdlIiA6ICJmaSIsCiAgImVsZW1lbnQucGF0aCIgOiAiamFldHR1L2p1bGtpbmVuL2Jhbm5lciIsCiAgImVkaXR1cmwiIDogIi9iaW4vZ2V0L3ZlZC9XTFE0VkphMVUuV0xSQXQ0bXFLLjB0RzVsZ2NOSSIsCiAgInB1YmxpY3VybCIgOiAiL2VsZW1lbnQuaHRtbC5zdHgiLAogICIiIDogIiIsCiAgIkdVSUQiIDogIiIsCiAgInZpZXd1cmwiIDogIi9iaW4vZ2V0L3ZpZC9XTFE0VkphMVUuV0xSQXQ0bXFLLjB0RzVsZ2NOSSIKfQ==
ewogICJlbGVtZW50X21vZGUiIDogIiIsCiAgImVsZW1lbnQuY29tcG9uZW50IiA6ICJ0cnVlIiwKICAiZWxlbWVudF9wYXRoIiA6ICJwb3NpdmEtcHViL29zaW9ubmltaSIsCiAgImVsZW1lbnQub25sb2FkIiA6ICJjbGllbnQiLAogICJlbGVtZW50LjgiIDogInRydWUiLAogICJlbGVtZW50LjYiIDogImZhbHNlIiwKICAiZWxlbWVudC41IiA6ICJmYWxzZSIsCiAgInNlY3Rpb24iIDogImRlZmF1bHQiLAogICJlbGVtZW50LnB1YmxpY2xpbmsiIDogIi9lbGVtZW50Lmh0bWwuc3R4IiwKICAiaW1wb3J0cGF0aCIgOiAiL3dlYmNvbXBvbmVudHMvcG9zaXZhLXB1Yi9vc2lvbm5pbWkiLAogICJVSUQiIDogImlkRThkbnNzWk84IiwKICAiY3NzIiA6ICJjc3Mvb3Npb25uaW1pLmNzcyIsCiAgImRhdGFfbGlzdGVuZXJzIiA6ICJwb3NpdmEtcHViL29zaW9ubmltaSIsCiAgImNhcmRjaGFubmVsIiA6ICJwdWJsaWMiLAogICJDVVJSRU5UUEFUSCIgOiAiL3Bvc2l2YS1wdWIvb3Npb25uaW1pL3Bvc2l2YS1wdWIvb3Npb25uaW1pLyIsCiAgInVybGV4ZWN1dGVwYXRoIiA6ICIvY2hhbm5lbHMvcHVibGljL3d3dy9wb3NpdmEvZW4vaW5kZXgvV0xPNEVMV1JJIiwKICAiZWxlbWVudC5saW5rIiA6ICIvZWxlbWVudC5odG1sLnN0eCIsCiAgInNraW4iIDogIi90b29scy9lbGVtZW50cy9lbGVtZW50L3NraW5zL2h0bWwvZWxlbWVudC5odG1sIiwKICAiZWxlbWVudC5sb2FkIiA6ICJjbGllbnQiLAogICJJTlNUQU5DRUlEIiA6ICJFOGRtNFlibU8iLAogICJlbGVtZW50Lm1vZGUiIDogImVsZW1lbnQiLAogICJjaGFubmVsLmxhbmd1YWdlIiA6ICJlbiIsCiAgImVsZW1lbnQucGF0aCIgOiAicG9zaXZhLXB1Yi9vc2lvbm5pbWkiLAogICJlbGVtZW50Lmxhbmd1YWdlIiA6ICJmaSIsCiAgInB1YmxpY3VybCIgOiAiL2VsZW1lbnQuaHRtbC5zdHgiLAogICJlZGl0dXJsIiA6ICIvYmluL2dldC92ZWQvV0xRNFZKYTFVLldMUkF0NG1xSy4wdEc1bGdjTkkiLAogICIiIDogIiIsCiAgIkdVSUQiIDogIiIsCiAgInZpZXd1cmwiIDogIi9iaW4vZ2V0L3ZpZC9XTFE0VkphMVUuV0xSQXQ0bXFLLjB0RzVsZ2NOSSIKfQ==
Responsibility
Posiva assumes its responsibility by managing final disposal now, and not leaving nuclear waste management to future generations. The final disposal solution has been prepared for a long time in order to map the factors influencing the conditions of Olkiluoto bedrock and to be absolutely certain of the long-term safety of final disposal.
Responsible operations can be seen at many different levels. Posiva's safety culture is managed and implemented systematically.

Posiva has been developing the final disposal solution for over 40 years. The multidisciplinary project requires world-class expertise. The lead role in the EKA project, starting the final disposal operations, is played by the experts of safe and industrial final disposal, who have been developing the safe final disposal concept for almost 40 years, and Posiva's partners. Posiva has concluded numerous important piecework agreements of the EKA project. Posiva is known in Finland and internationally as an organisation implementing final disposal systematically – as the world-leading provider of final disposal services.
Assuming responsibility for the environment means implementing safe final disposal of spent fuel and assuming responsibility for energy efficiency, waste management and ensuring that construction related to final disposal does not endanger the surrounding nature. Posiva is combating climate change with the final disposal solution.
Financial responsibility means, among other things, implementing nuclear waste management on an economically sustainable basis, as the final disposal of spent fuel has already been taken into account in the production costs of nuclear electricity. The funds for the implementation of final disposal have been funded in the State Nuclear Waste Management Fund.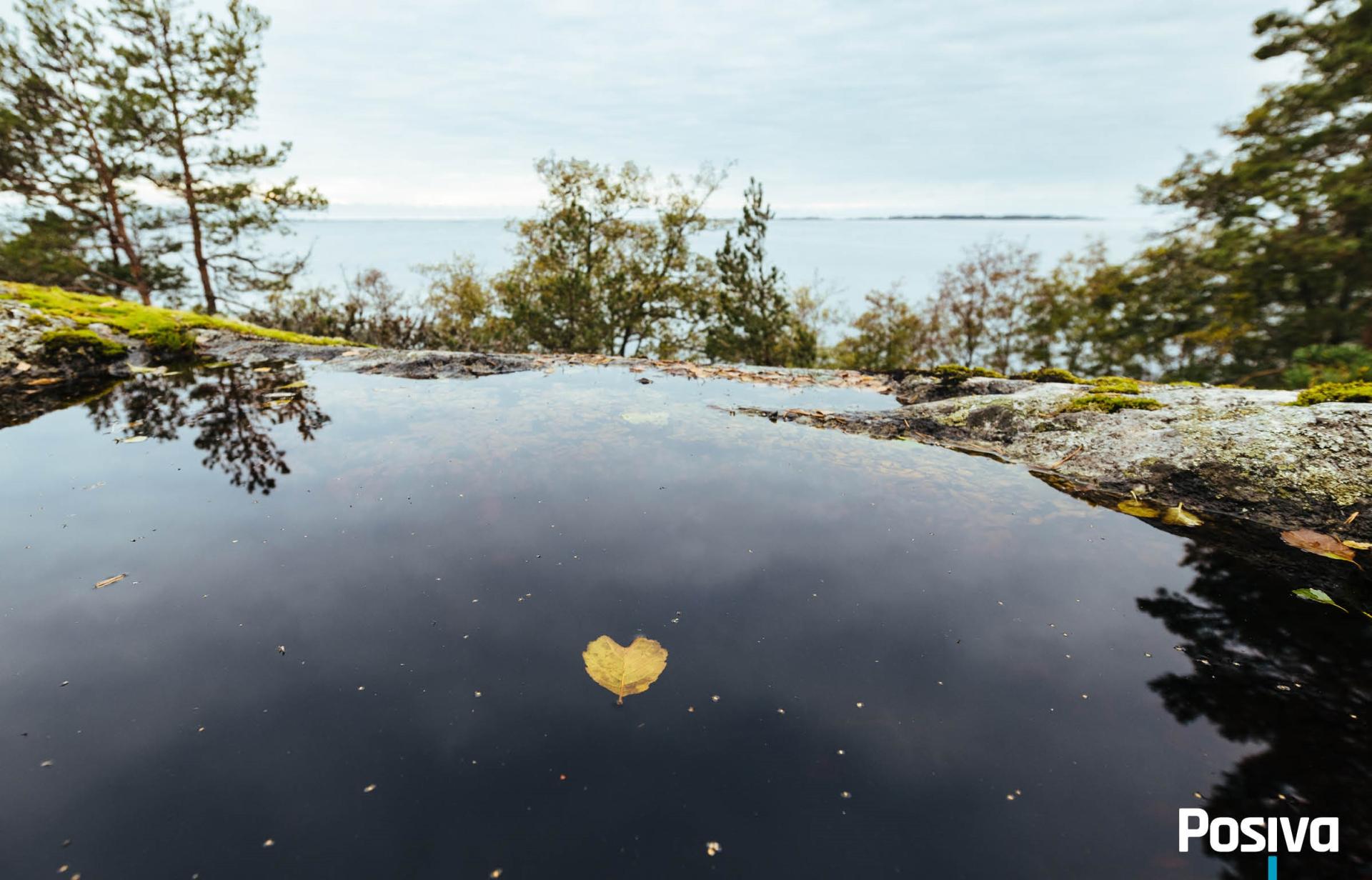 ‍