ewogICJzcmNzZXR0aSIgOiAiIiwKICAiZWxlbWVudF9tb2RlIiA6ICIiLAogICJlbGVtZW50LmNvbXBvbmVudCIgOiAidHJ1ZSIsCiAgImVsZW1lbnRfcGF0aCIgOiAiamFldHR1L2p1bGtpbmVuL2Jhbm5lciIsCiAgImVsZW1lbnQub25sb2FkIiA6ICJjbGllbnQiLAogICJlbGVtZW50LjgiIDogInRydWUiLAogICJlbGVtZW50LjYiIDogImZhbHNlIiwKICAiZWxlbWVudC41IiA6ICJmYWxzZSIsCiAgInNlY3Rpb24iIDogImRlZmF1bHQiLAogICJlbGVtZW50LnB1YmxpY2xpbmsiIDogIi9lbGVtZW50Lmh0bWwuc3R4IiwKICAiaW1wb3J0cGF0aCIgOiAiL3dlYmNvbXBvbmVudHMvamFldHR1L2p1bGtpbmVuL2Jhbm5lciIsCiAgIlVJRCIgOiAiaWRnbjRMR29pY08iLAogICJjc3MiIDogImNzcy9iYW5uZXIuY3NzIiwKICAiZGF0YV9saXN0ZW5lcnMiIDogImphZXR0dS9qdWxraW5lbi9iYW5uZXIiLAogICJjbGFzcyIgOiAic3RhdG9lbGVtZW50IGphZXR0dS1zaXNhbHRvc2l2dS1iYW5uZXIgZC1mbGV4IGZ1bGwtd2lkdGggY29udGVudC1tb2R1bGUtLWJsb2NrIHNob3ctb3V0bGluZSBpcy1jb25uZWN0ZWQiLAogICJjYXJkY2hhbm5lbCIgOiAicHVibGljIiwKICAiQ1VSUkVOVFBBVEgiIDogIi9qYWV0dHUvanVsa2luZW4vYmFubmVyL2phZXR0dS9qdWxraW5lbi9iYW5uZXIvIiwKICAicGFha3V2YWltYWdldXJsIiA6ICIiLAogICJlbGVtZW50LmxpbmsiIDogIi9lbGVtZW50Lmh0bWwuc3R4IiwKICAidXJsZXhlY3V0ZXBhdGgiIDogIi9jaGFubmVscy9wdWJsaWMvd3d3L3Bvc2l2YS9lbi9pbmRleC9wb3NpdmEvWUNPaXV0RDRHIiwKICAic2tpbiIgOiAiYmFubmVyLmh0bWwiLAogICJlbGVtZW50LmxvYWQiIDogImNsaWVudCIsCiAgImNoYW5uZWwubGFuZ3VhZ2UiIDogImVuIiwKICAiZWxlbWVudC5tb2RlIiA6ICJlbGVtZW50IiwKICAiSU5TVEFOQ0VJRCIgOiAiZ240TjZhUjBHIiwKICAiZWxlbWVudC5sYW5ndWFnZSIgOiAiZmkiLAogICJlbGVtZW50LnBhdGgiIDogImphZXR0dS9qdWxraW5lbi9iYW5uZXIiLAogICJlZGl0dXJsIiA6ICIvYmluL2dldC92ZWQvWUNQMlZSd0pvLllDUTR3a0dvTy4wdEc1bGdjTkkiLAogICJwdWJsaWN1cmwiIDogIi9lbGVtZW50Lmh0bWwuc3R4IiwKICAiIiA6ICIiLAogICJHVUlEIiA6ICIiLAogICJ2aWV3dXJsIiA6ICIvYmluL2dldC92aWQvWUNQMlZSd0pvLllDUTR3a0dvTy4wdEc1bGdjTkkiCn0=
ewogICJlbGVtZW50X21vZGUiIDogIiIsCiAgImVsZW1lbnQuY29tcG9uZW50IiA6ICJ0cnVlIiwKICAiZWxlbWVudF9wYXRoIiA6ICJwb3NpdmEtcHViL29zaW9ubmltaSIsCiAgImVsZW1lbnQub25sb2FkIiA6ICJjbGllbnQiLAogICJlbGVtZW50LjgiIDogInRydWUiLAogICJlbGVtZW50LjYiIDogImZhbHNlIiwKICAiZWxlbWVudC41IiA6ICJmYWxzZSIsCiAgInNlY3Rpb24iIDogImRlZmF1bHQiLAogICJlbGVtZW50LnB1YmxpY2xpbmsiIDogIi9lbGVtZW50Lmh0bWwuc3R4IiwKICAiaW1wb3J0cGF0aCIgOiAiL3dlYmNvbXBvbmVudHMvcG9zaXZhLXB1Yi9vc2lvbm5pbWkiLAogICJVSUQiIDogImlkZ240OW5XWHRzIiwKICAiY3NzIiA6ICJjc3Mvb3Npb25uaW1pLmNzcyIsCiAgImRhdGFfbGlzdGVuZXJzIiA6ICJwb3NpdmEtcHViL29zaW9ubmltaSIsCiAgImNhcmRjaGFubmVsIiA6ICJwdWJsaWMiLAogICJDVVJSRU5UUEFUSCIgOiAiL3Bvc2l2YS1wdWIvb3Npb25uaW1pL3Bvc2l2YS1wdWIvb3Npb25uaW1pLyIsCiAgInVybGV4ZWN1dGVwYXRoIiA6ICIvY2hhbm5lbHMvcHVibGljL3d3dy9wb3NpdmEvZW4vaW5kZXgvcG9zaXZhL1lDT2l1dEQ0RyIsCiAgImVsZW1lbnQubGluayIgOiAiL2VsZW1lbnQuaHRtbC5zdHgiLAogICJza2luIiA6ICIvdG9vbHMvZWxlbWVudHMvZWxlbWVudC9za2lucy9odG1sL2VsZW1lbnQuaHRtbCIsCiAgImVsZW1lbnQubG9hZCIgOiAiY2xpZW50IiwKICAiSU5TVEFOQ0VJRCIgOiAiZ240Qm8xV3U0IiwKICAiZWxlbWVudC5tb2RlIiA6ICJlbGVtZW50IiwKICAiY2hhbm5lbC5sYW5ndWFnZSIgOiAiZW4iLAogICJlbGVtZW50LnBhdGgiIDogInBvc2l2YS1wdWIvb3Npb25uaW1pIiwKICAiZWxlbWVudC5sYW5ndWFnZSIgOiAiZmkiLAogICJwdWJsaWN1cmwiIDogIi9lbGVtZW50Lmh0bWwuc3R4IiwKICAiZWRpdHVybCIgOiAiL2Jpbi9nZXQvdmVkL1lDUDJWUndKby5ZQ1E0d2tHb08uMHRHNWxnY05JIiwKICAiIiA6ICIiLAogICJHVUlEIiA6ICIiLAogICJ2aWV3dXJsIiA6ICIvYmluL2dldC92aWQvWUNQMlZSd0pvLllDUTR3a0dvTy4wdEc1bGdjTkkiCn0=
Management system
As the company's operating policy states, Posiva's (Posiva Oy and Posiva Solutions Oy) operations are aimed at the safe and cost-efficient final disposal of spent nuclear fuel in accordance with the requirements of the company's owners and other parties involved. Posiva is committed to the continuous improvement of safety, environmental management and quality, and ensuring the fulfilment of all social requirements laid down in laws and regulations. Operational safety is managed in a comprehensive and systematic manner.
Posiva's management system is based on legislation, the ISO 9001, ISO 14001 and ISO standards, and the general principles of corporate safety management. The management system accounts for the Radiation and Nuclear Safety Authority's nuclear safety instructions (YVL Guides), the applicable requirements of the International Atomic Energy Agency (IAEA) as well as the special characteristics and focuses of Posiva's operations and operating environment.
The aim of Posiva's management system is to ensure operational compliance and achievement of the strategic goals, support good safety culture, manage risks and, most importantly, make sure that all safety and quality requirements are met. Including the business operations of Posiva subsidiary Posiva Solutions OyOpen link in a new tab, the management system covers all of Posiva's activities.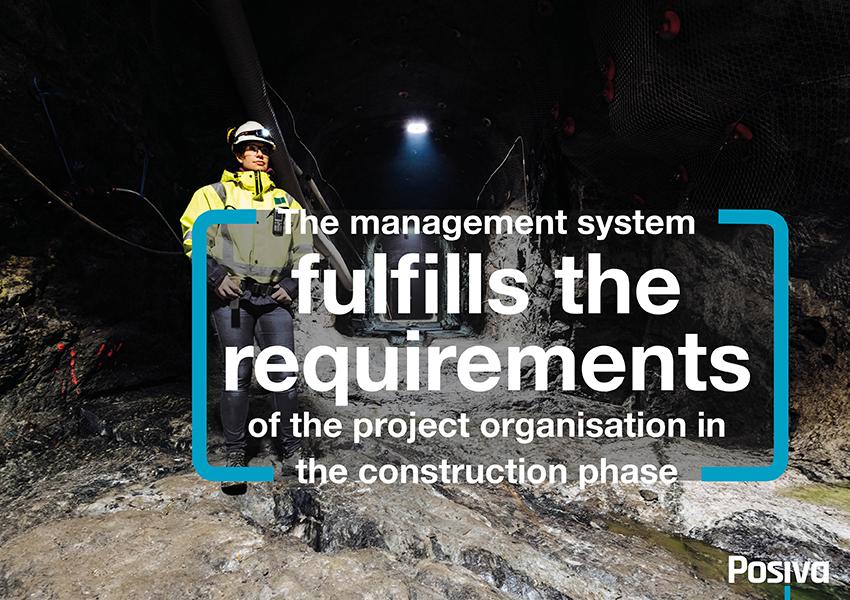 Internal audits and self-assessments are held each year to develop the management system and monitor and assess the company's operations and the functionality and development needs of the management system.
The management system for Posiva Oy and Posiva Solutions Oy has been certified in accordance with the ISO 9001, ISO 14001 and ISO 45001 standards. The management system's conformity is ensured by means of annual audits conducted by the certification body.