Welding machine delivered to Posiva's encapsulation plant transferred to installation location
The welding machine for the final disposal canisters, delivered to Posiva's ONKALO worksite from United States, has now been transferred and installed in place in the encapsulation plant. The welding machine uses the friction stir welding method to join the cover of the copper canister tightly with the canister body.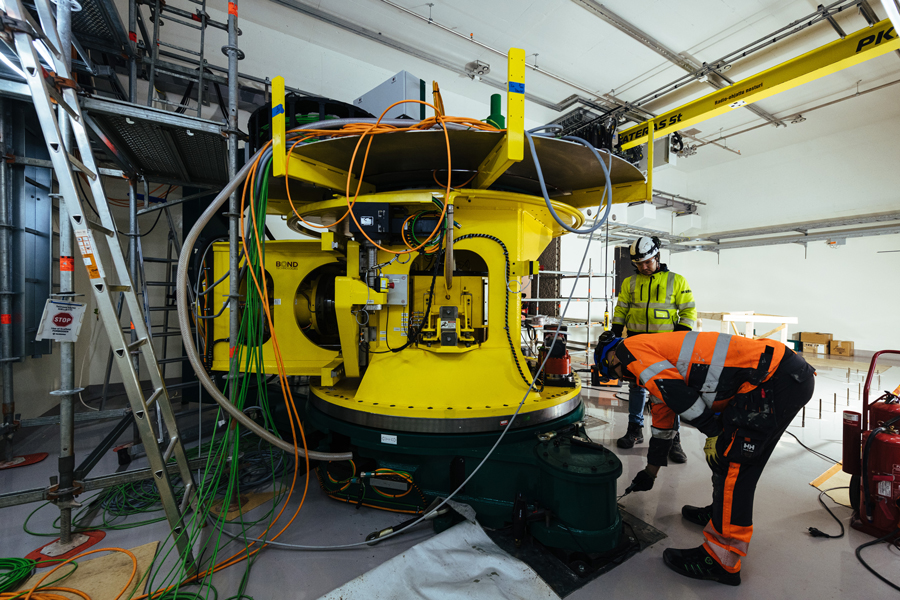 Canister welding machine. The quality of the welding carried out to install
the machine is being inspected in the photo.

The size of the machine is 3.0 m x 5.2 m x 3.8 m and it weighs 25,000 kg. The machine grips the canister body with a force of 4,000 kN to ensure the canister stays in place during the welding process.

Friction stir welding is based on the hot forming of the workpiece material with the desired temperature achieved through the friction generated by the tool rotating at high speed against the material. The benefits of friction stir welding – in terms of weld quality – include the small grain size of the weld metal, equiaxed grains and random texture, as well as good mechanical properties.
The copper canisters to be welded vary in size and weight depending on which plant the spent fuel that is placed in the canister comes from. However, the outer diameter of each canister is always 1050 mm.

Text: Pasi Tuohimaa
Photo: Tapani Karjanlahti