Drilling of first test deposition holes by Posiva itself completed
The launch process of production drilling in ONKALO progresses with the drilling of test holes. Posiva has completed the drilling of the first two deposition holes using the new boring machine which was operated by Posiva's own personnel. The holes are located at a depth of 430 metres in the deposition tunnel built for the Trial Run of Final Disposal (TRFD). The first four holes in the tunnel were drilled in the autumn of 2022 as test drilling operations of the boring machine by a crew from the machine's manufacturer Herrenknecht AG.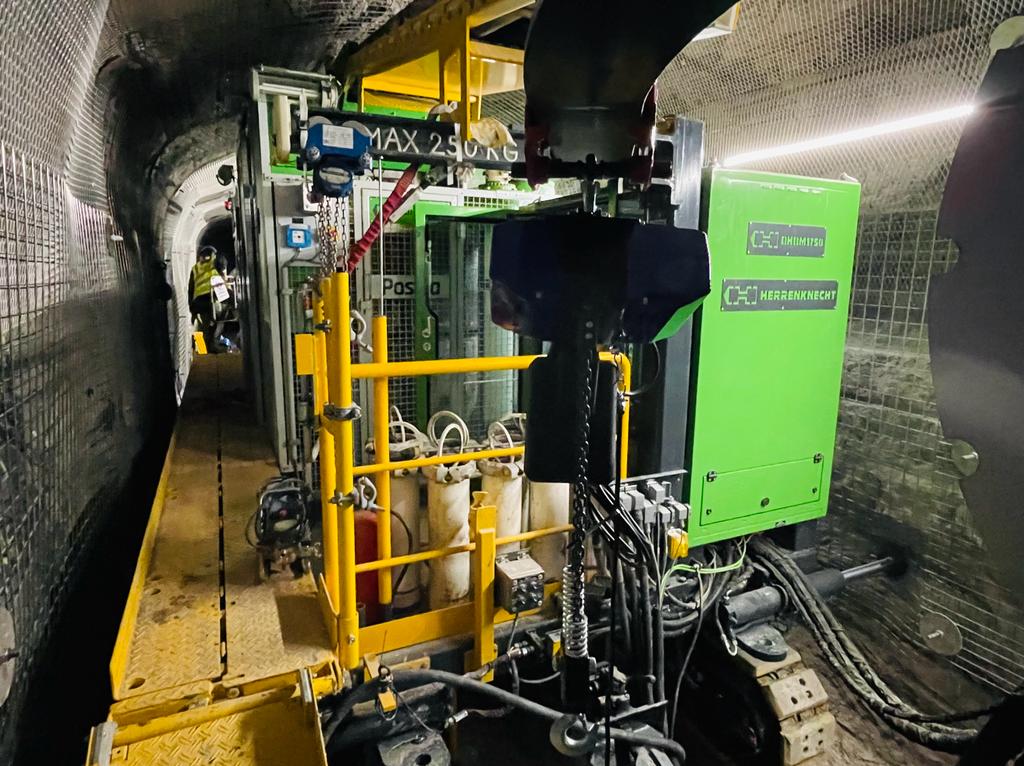 DHBM drilling rig from Herrenknecht AG for drilling disposal holes.

- The drilling of the first holes with the DHBM boring machine operated by our own personnel is a significant step forward as Posiva moves towards the start of operation, says Posiva's Program Manager Kimmo Kemppainen.
- We made several practical observations for production drilling already with these two holes. Some minor teething problems with a new machine. For example, how to support the machine when the tunnel ceiling does not follow the theoretical tunnel profile. The need for sufficient amount of clean flushing water for the boring machine was also established, so as to avoid sedimentation of rock residue from drilling in the flushing system.
The drilling of one hole took about six days. According to Kemppainen, normal working hours were exceeded during the days and drilling continued also on Saturday. Posiva's own crew will drill a total of four holes in the TRFD tunnel, bringing the total number of holes in the tunnel to eight. The third hole is estimated to be completed on week 8. All four holes will be ready at the beginning of March.
The boring machine was operated by three operators employed by Posiva. Two representatives from Herrenknecht and a crew of two from Germany for the maintenance of the boring machine have remained on site as backup. Posiva's Line Manager and Supervisor have been on site as part of their normal duties.
Posiva's boring machine is operated by Pasi Heino, Marko Niemi and Lauri Suominen. The Line Manager is Jari Isokorpi and Jarno Säippä acts as Supervisor. The Joint Functional Test is scheduled to start in February 2024.
Text: Pasi Tuohimaa
Photos: Pasi Tuohimaa and Jarno Säippä